The healthcare industry is undergoing a remarkable evolution, and at its core is the dynamic world of software development. In this digital age, healthcare software developers are not only shaping the way we receive medical care but also reimagining the entire healthcare experience.
In this blog post, we will delve into the latest and most impactful trends in healthcare software development in 2023. These trends are not just influencing the way healthcare is delivered but are also reshaping the patient experience, improving diagnostic accuracy, and increasing the efficiency of healthcare administration.
Table of Contents
Understanding Healthcare Software Development
Healthcare software development refers to the creation and maintenance of software applications, platforms, and systems specifically designed for use within the healthcare industry.
These software solutions are developed to address a wide range of needs and challenges faced by healthcare providers, professionals, and organizations, with the ultimate goal of improving patient care, enhancing efficiency, and ensuring the secure management of healthcare data.
Here are 5 key trends of healthcare software development:
Electronic Health Records (EHR) Systems.

Telemedicine Solutions.

Healthcare Mobile Apps.

Clinical Decision Support Systems (CDSS).

Patient Management Systems.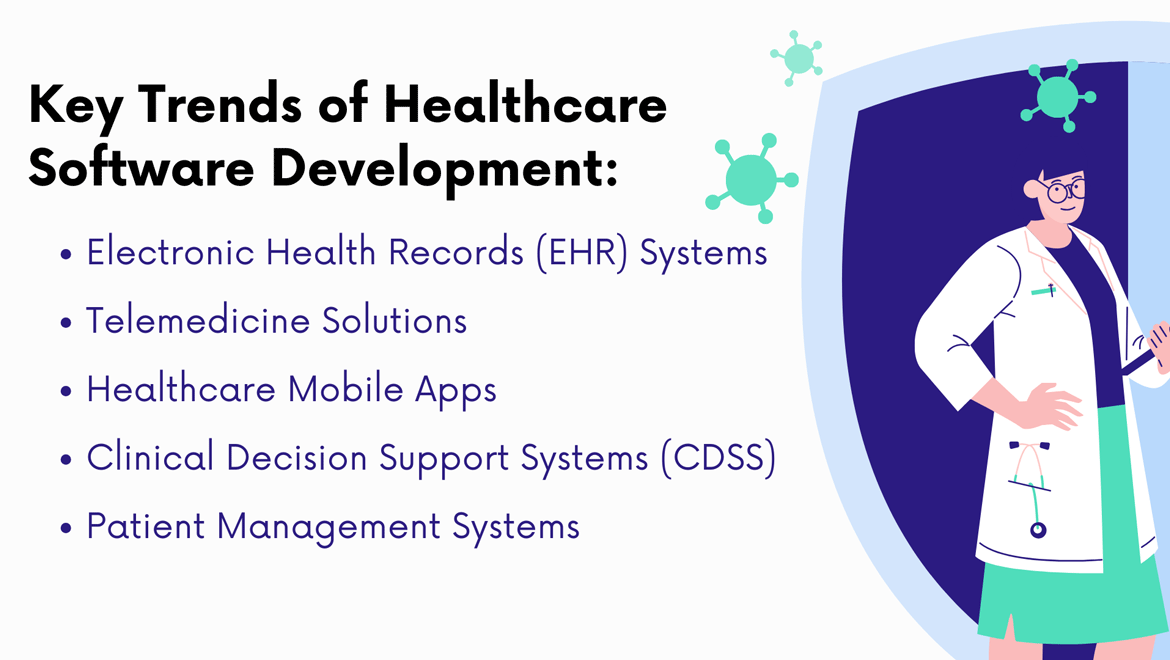 Healthcare software development requires a deep understanding of healthcare processes, compliance requirements, and patient privacy concerns. Developers in this field work closely with healthcare professionals to create solutions that meet the unique needs and challenges of the healthcare industry, ultimately aiming to improve patient outcomes and the overall healthcare experience.
Trend 1 – Electronic Health Records (EHR) Systems
Electronic Health Records, often referred to as EHR systems, are digital versions of the traditional paper medical chart. These systems store comprehensive and up-to-date health information about patients, making it accessible to authorized healthcare providers and organizations.
EHRs are designed to be shared among different healthcare facilities, departments, and professionals, ensuring seamless patient care and improved decision-making.
Key Components and Features
EHR systems are rich in features and functionalities, designed to enhance healthcare delivery in numerous ways:
Patient Data

: EHRs contain a patient's medical history, including diagnoses, medications, allergies, immunizations, laboratory results, and treatment plans.

Accessibility

: Authorized healthcare professionals can access EHRs securely from various locations, including hospitals, clinics, and even remote telehealth settings. 

Interoperability

: EHR systems aim to break down silos by promoting interoperability, enabling different healthcare systems and providers to share data seamlessly. This is crucial for coordinated care and patient transitions between different healthcare settings.

Efficiency

: EHRs streamline administrative tasks, such as appointment scheduling, billing, and insurance claims processing, leading to improved operational efficiency within healthcare organizations.

Data Security

: Robust security features, including encryption, authentication, and audit trails, are integrated into EHR systems to safeguard patient data in compliance with healthcare privacy regulations like HIPAA.
Benefits of EHR Systems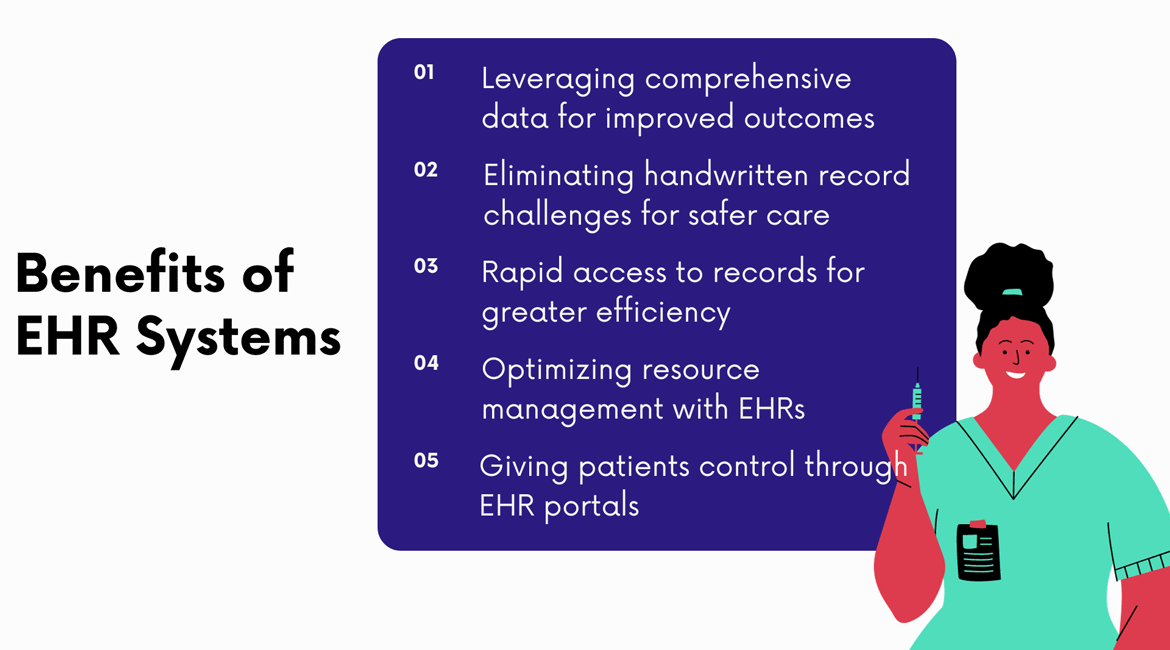 The adoption of EHR systems has brought about numerous advantages to the healthcare industry:
Improved Patient Care

: Access to comprehensive patient data enhances diagnostic accuracy, treatment planning, and care coordination, ultimately leading to better patient outcomes.

Reduced Errors

: Legibility issues associated with handwritten records are eliminated, reducing the risk of medical errors due to misinterpretation.

Efficiency

: Healthcare providers can access patient records quickly, reducing administrative burdens and enabling them to focus more on patient care.

Cost Savings

: EHRs can lead to cost savings through reduced paperwork, improved billing accuracy, and better management of healthcare resources.

Patient Engagement: Many EHR systems offer patient portals that empower individuals to access their health information, schedule appointments, and communicate with their healthcare providers.
Trend 2 – Telemedicine Solutions
Telemedicine, often used interchangeably with telehealth, refers to the delivery of healthcare services, consultations, and medical information remotely, leveraging telecommunications technology. It involves real-time interactions between patients and healthcare providers, regardless of their physical locations.
Telemedicine encompasses a wide range of services, from virtual doctor's appointments to remote monitoring of chronic conditions.
Key Components of Telemedicine Solutions
Telemedicine solutions encompass several key components and technologies that enable remote healthcare delivery:
Video Conferencing

: Real-time video calls allow for virtual doctor-patient consultations, enabling face-to-face interactions and visual assessments.

Secure Messaging

: Patients can communicate with healthcare providers through secure messaging platforms, facilitating non-emergency queries and follow-up care.

Remote Monitoring Devices

: Wearable and home-based medical devices transmit patient data, such as vital signs and chronic disease metrics, to healthcare professionals for continuous monitoring and intervention.

Electronic Health Records (EHR) Integration

: Integration with EHR systems ensures that patient records and medical history are accessible during virtual appointments.

Mobile Apps: Many telemedicine platforms offer mobile apps, enabling patients to schedule appointments, access medical records, and receive notifications about their health.
Why Telemedicine Matters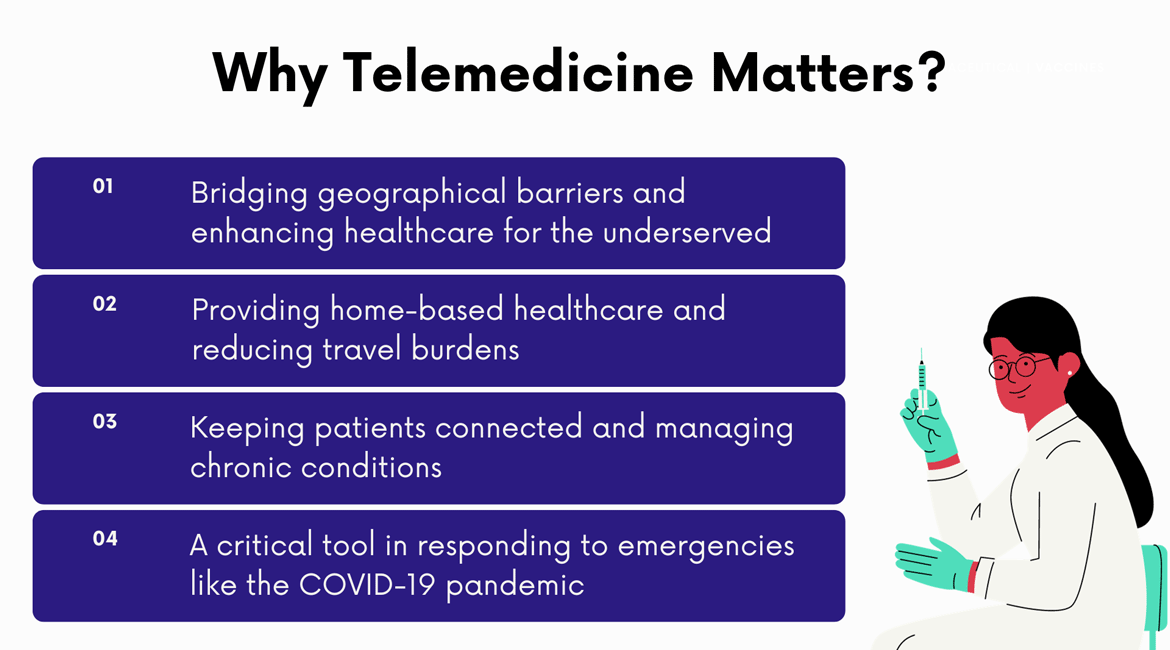 Telemedicine solutions have gained prominence for several compelling reasons:
Enhanced Access

: Telemedicine breaks down geographical barriers, making healthcare accessible to patients in remote or underserved areas. It also facilitates care for individuals with mobility issues.

Convenience

: Patients can consult with healthcare providers from the comfort of their homes, reducing the need for travel and minimizing waiting times.

Continuity of Care

: Telemedicine ensures that patients can maintain regular contact with their healthcare providers, especially for managing chronic conditions.

Public Health Benefits

: Telemedicine played a vital role in responding to public health emergencies, such as the COVID-19 pandemic, by enabling safe access to care while minimizing the risk of virus transmission.
Trend 3 – Healthcare Mobile Apps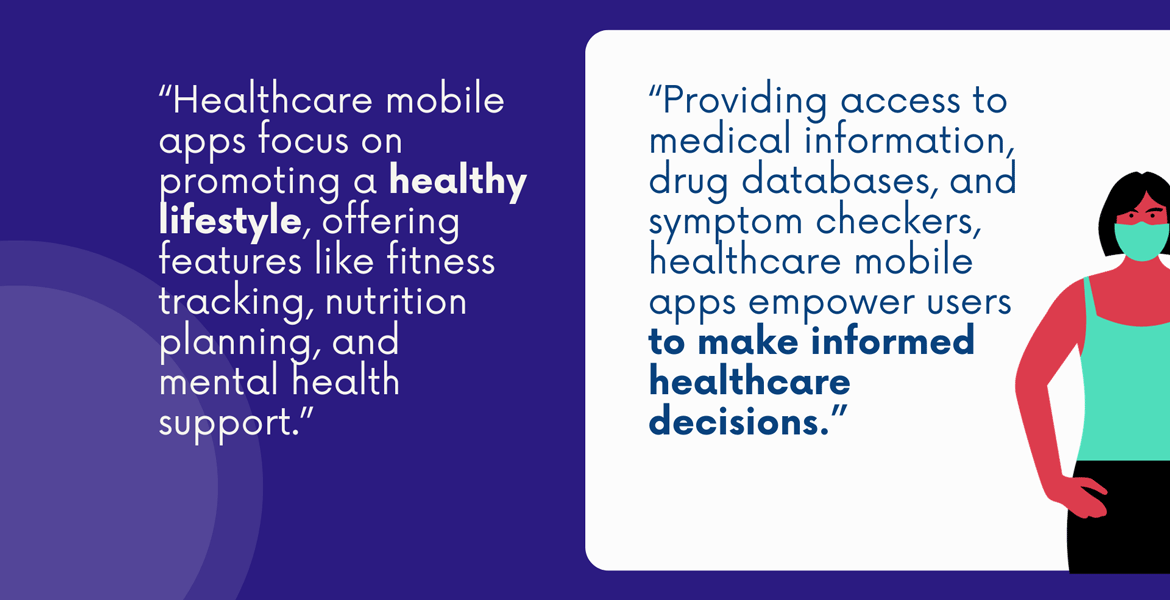 Healthcare mobile apps, designed for smartphones and tablets, are reshaping the way individuals manage their health, interact with healthcare providers, and access vital medical information.
The Spectrum of Healthcare Mobile Apps
Healthcare mobile apps encompass a wide range of functionalities, catering to various aspects of healthcare delivery and patient well-being:
Health and Wellness Apps

: These apps focus on promoting a healthy lifestyle, offering features like fitness tracking, nutrition planning, and mental health support.

Telehealth and Telemedicine Apps

: Facilitating remote consultations with healthcare professionals, these apps enable patients to receive medical advice, diagnosis, and prescriptions via video calls or secure messaging.

Medication Management Apps

: Designed to help individuals track and manage their medications, these apps provide reminders, dosage instructions, and refill alerts.

Chronic Disease Management Apps

: Patients with chronic conditions can benefit from apps that monitor and manage their health metrics, offering valuable insights to both patients and healthcare providers.

Appointment Scheduling Apps

: Streamlining the appointment booking process, these apps allow patients to schedule and manage their healthcare appointments with ease.

Medical Reference Apps

: Providing access to medical information, drug databases, and symptom checkers, these apps empower users to make informed healthcare decisions.

Wearable Device Companion Apps

: Apps that sync with wearable health devices like fitness trackers or smartwatches to collect and analyze health data.

Mental Health Apps

: Offering meditation, relaxation exercises, and cognitive-behavioral therapy modules to support mental well-being and address conditions like anxiety and depression.
The Advantages of Healthcare Mobile Apps
Healthcare mobile apps offer several advantages to both patients and healthcare providers. These include enhanced accessibility, allowing patients to access healthcare resources and information at any time and from anywhere, thus fostering a more patient-centric approach to care.
Furthermore, these apps promote engagement by involving patients in their own health management. They encourage healthier lifestyles, help patients adhere to treatment plans, and increase awareness of their medical conditions.
Additionally, healthcare providers benefit from increased efficiency, as mobile apps facilitate streamlined communication, improved appointment management, and access to real-time patient data.
Lastly, the expansion of telehealth apps has been particularly impactful, as they enable remote consultations, reducing the need for physical visits and improving access to care.
What Do IT Companies Do for the Healthcare Sector?
Software development companies play a crucial role in the ever-evolving healthcare industry, where technology is a driving force behind innovation and efficiency. These companies are at the forefront of crafting digital solutions that improve patient care and enhance the overall healthcare experience.
Here are some key aspects of what these companies do:
Healthcare Analytics

: These companies build analytics solutions that help healthcare organizations extract valuable insights from vast datasets, enabling data-driven decision-making.

Security and Compliance

: They prioritize data security and compliance with healthcare regulations, such as

HIPAA

in the United States, to ensure the protection of sensitive patient information.

Patient-Focused Apps

: Companies create patient-centric mobile applications that empower individuals to manage their health, access medical information, schedule appointments, and even receive telehealth services.

Custom Software Development

: They design and develop custom software solutions, such as Electronic Health Records (EHR) systems, telemedicine platforms, and healthcare analytics tools, to meet the specific requirements of healthcare providers, organizations, and patients.

Innovative Solutions: IT companies are at the forefront of developing innovative solutions that address emerging healthcare challenges. One such example is the UMA app, developed by IT Creative Labs, which addresses a pressing concern related to food allergens and intolerances.
The final entry in the list warrants particular focus, as it represents an innovative application aimed at addressing the urgent challenges faced by individuals dealing with food allergies and intolerances. By utilizing the UMA app, users can scan menus at restaurants and food establishments to identify potential allergens and intolerances in their meal choices.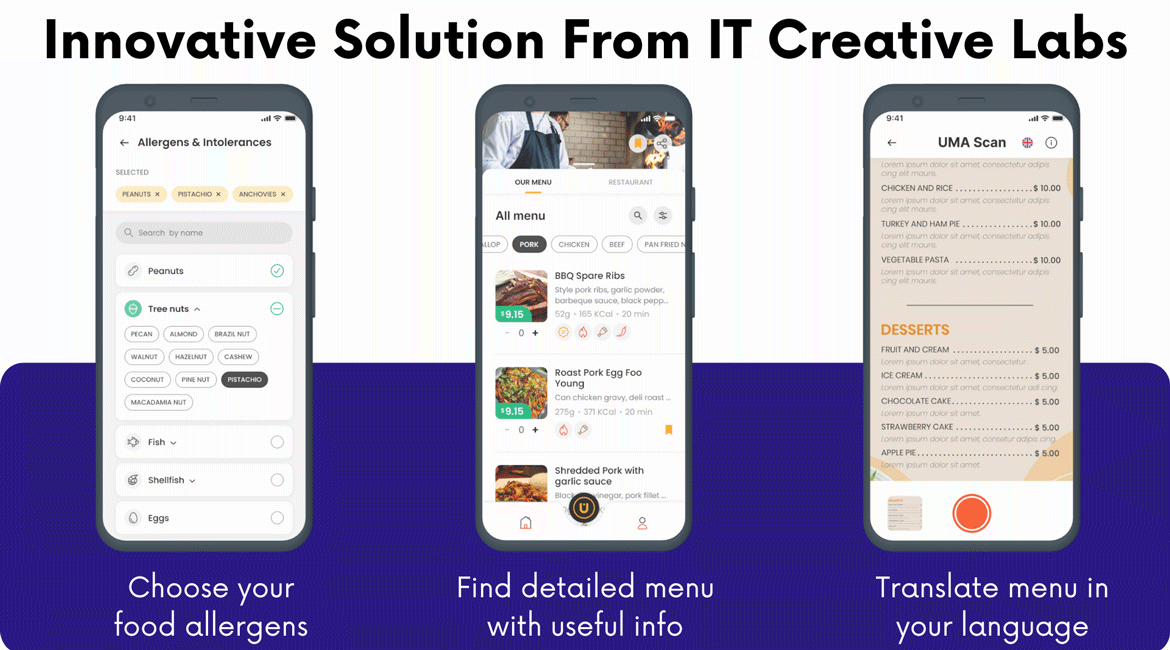 This Universal Meal Assistant showcases how healthcare software developers can create solutions that directly impact the health and well-being of individuals, making dining out a more accessible and secure experience for those with dietary restrictions.
Download UMA for iOS & Android and take control of your dining experience.
Trend 4 – Clinical Decision Support Systems (CDSS)
In the fast-paced world of healthcare, where critical decisions must be made swiftly and accurately, Clinical Decision Support Systems (CDSS) have emerged as indispensable tools.
Understanding Clinical Decision Support Systems (CDSS)
Clinical Decision Support Systems are computer-based tools designed to assist healthcare providers in making informed decisions about patient care.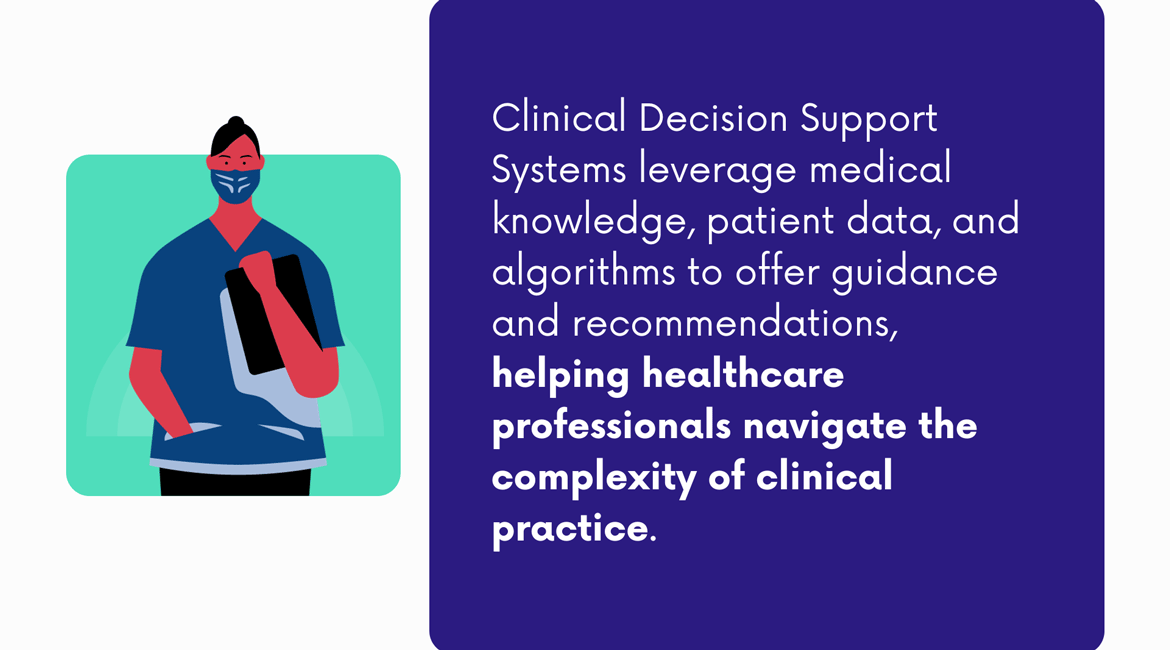 Key Components and Functionalities
CDSS systems incorporate several critical components and functions:
Knowledge Base

: A repository of medical knowledge, guidelines, clinical evidence, and best practices forms the foundation of CDSS. This knowledge is continuously updated to reflect the latest advancements in medicine.

Patient Data Integration

: CDSS systems integrate with Electronic Health Records (EHR) to access patient-specific information, including medical history, lab results, and medications.

Alerts and Reminders

: CDSS systems can provide real-time alerts to healthcare providers about potential issues, medication interactions, or preventive care reminders.

Evidence-Based Recommendations

: CDSS relies on clinical guidelines and evidence-based medicine to offer treatment suggestions that align with current medical standards.

Diagnostic Assistance

: In cases of uncertainty, CDSS can aid in differential diagnosis by considering various clinical factors.
Advantages of CDSS
CDSS systems offer several advantages to healthcare providers and the healthcare system:
Improved Decision-Making

: By offering evidence-based recommendations and alerts, CDSS helps healthcare professionals make more informed decisions, reducing the likelihood of errors.

Enhanced Patient Safety

: CDSS can detect potential medication errors, allergies, and adverse events, contributing to improved patient safety.

Quality of Care

: CDSS promotes the delivery of high-quality, evidence-based care by ensuring that healthcare providers have access to the latest medical knowledge.
Trend 5 – Patient Management Systems
Patient Management Systems (PMS) are comprehensive software solutions designed to assist healthcare providers in managing various aspects of patient care, from appointment scheduling to billing and beyond.
These systems serve as the backbone of healthcare administration, allowing providers to efficiently handle patient-related data and processes.
Key Components and Functionalities
Appointment Scheduling

: PMS software enables healthcare providers to efficiently manage appointment schedules, reducing waiting times and optimizing resource allocation.

Patient Registration

: It includes features for registering patients, collecting demographic and insurance information, and creating electronic patient records. Also PMS systems include document management features for storing and retrieving patient-related documents securely.

Billing and Claims Processing

: PMS helps streamline billing processes, ensuring accurate claims submission and timely reimbursements from payers.

Electronic Health Records (EHR) Integration

: Many PMS solutions integrate seamlessly with EHR systems, providing healthcare providers with access to comprehensive patient health records during appointments.

Patient Communication

: PMS facilitates communication with patients through reminders, notifications, and updates on appointments and test results.
Advantages of PMS
Patient Management Systems significantly enhance the efficiency of healthcare administration by simplifying and automating various tasks. This, in turn, reduces the burden of manual paperwork, minimizes the risk of errors, and optimizes practice operations.
Patients also reap the benefits of PMS, experiencing reduced waiting times, streamlined appointment processes, and improved communication, resulting in an overall enhanced healthcare experience.
Furthermore, these systems play a vital role in ensuring accurate billing and claims processing, reducing the potential for revenue loss due to billing errors. Their ability to integrate seamlessly with Electronic Health Records (EHR) systems ensures that healthcare providers have access to comprehensive, up-to-date patient records during appointments, ultimately enhancing the quality of care provided.
As a result, Patient Management Systems not only promote practice growth but also support the broader mission of healthcare providers to serve more patients efficiently while delivering high-quality care.
Custom Software Development for Healthcare
Custom software development for healthcare refers to the creation of specialized software applications, platforms, or systems tailored to the specific needs and workflows of healthcare providers, organizations, and patients.
Unlike off-the-shelf software, custom solutions are designed from the ground up to address the unique complexities and requirements of the healthcare industry.
Key benefits for the healthcare sector:
Tailored to Unique Needs

. Custom healthcare software is designed to precisely match the requirements of healthcare providers and organizations. This ensures that the software aligns with existing workflows, integrates seamlessly with other systems, and addresses specific challenges unique to healthcare.

Scalability

. As healthcare organizations grow or evolve, custom software can be scaled and adapted to accommodate changing needs and increasing patient volumes. This flexibility supports long-term sustainability.

Cost Efficiency

. While the initial investment in custom software development may be higher than off-the-shelf solutions, the long-term cost savings can be substantial. Custom software minimizes ongoing licensing fees and reduces the need for costly workarounds or manual processes.

Innovation and Adaptability

. Custom solutions allow healthcare organizations to innovate and adapt rapidly to changes in the healthcare landscape, such as emerging technologies, evolving regulations, and shifting patient needs.
The Future of Healthcare Development
The future of development in healthcare holds immense promise, driven by rapid technological advancements, evolving patient needs, and the ongoing pursuit of improving healthcare quality, accessibility, and efficiency.
Here are several key trends and directions that are likely to shape the future of development in healthcare:
Expanding Access Through Telehealth and Remote Monitoring

. Telehealth and remote monitoring solutions are set to expand further, allowing patients to conveniently access healthcare services from the comfort of their homes. This transformative trend, accelerated by the COVID-19 pandemic, is expected to persist as patients and providers increasingly appreciate the convenience and benefits of virtual care.

Elevating Healthcare with Artificial Intelligence (AI) and Machine Learning (ML)

. AI and ML technologies will be harnessed for predictive analytics, disease diagnosis, personalized treatment plans, and drug discovery. 

Enhancing Data Security with Blockchain Technology

. By ensuring data integrity and facilitating secure data sharing, blockchain will empower patients with greater control over their health information while safeguarding it from breaches and unauthorized access.

Empowering Healthcare with the Internet of Things (IoT) and Wearable Devices

. IoT will continue to connect medical devices and wearable technology for real-time health monitoring. These interconnected devices will enable patients to monitor their vital signs, manage chronic conditions, and provide healthcare professionals with valuable data for remote patient management.

Advancing Genomic Medicine for Precision Care

. Genomic sequencing and analysis will play a pivotal role in disease diagnosis, risk assessment, and the development of precision medicine approaches tailored to an individual's genetic makeup.

Transforming Surgery with Robotic and AI-Assisted Procedures

. Surgeons will benefit from robotic assistance and AI-guided surgical techniques.

Addressing Mental Health with Innovative Technology

. These solutions will offer accessible and evidence-based interventions for individuals dealing with mental health conditions.
The future of development in healthcare is marked by a dynamic interplay between technology, data-driven insights, patient-centered care, and ethical considerations.
While these advancements hold the potential to transform healthcare positively, they will also require ongoing collaboration among stakeholders to ensure that innovations are applied in ways that benefit patients and improve healthcare outcomes.
Summing It Up
In summary, healthcare software development is the driving force behind a revolution in healthcare. Custom software solutions are like precision tools, meticulously crafted to meet the unique needs of the healthcare industry. They empower healthcare providers, streamline operations, and elevate patient care to new heights.
As technology advances and healthcare evolves, these software innovations stand as beacons of progress, guiding the industry towards a future where accessible, efficient, and patient-centric care is the standard.
The journey of healthcare software development is an exciting one, marked by innovation, resilience, and a shared commitment to the well-being of individuals and communities around the world.
Frequently Asked Questions
Healthcare software development is unique because it involves addressing the intricate and specialized needs of the healthcare industry. Healthcare software must adhere to strict regulatory standards, manage complex and sensitive patient data, and accommodate a wide range of healthcare workflows. Moreover, it plays a critical role in enhancing patient care, ensuring data security, and streamlining healthcare operations, making it a pivotal element in the healthcare ecosystem.
AI-powered healthcare solutions can analyze vast amounts of patient data to identify patterns, assist in disease diagnosis, and predict treatment outcomes. AI-driven chatbots can provide immediate responses to patient queries, while machine learning algorithms can personalize treatment plans based on individual patient profiles. AI enhances the efficiency, accuracy, and quality of healthcare delivery, ultimately benefiting both patients and healthcare providers.
IT companies impact the healthcare sector by driving technological advancements, developing and maintaining healthcare software systems, facilitating telehealth services, improving data management, and enhancing patient care through innovative digital solutions. Their contributions play a pivotal role in modernizing and optimizing healthcare delivery.